RECIPE: Slow Cooker Baked Potato Soup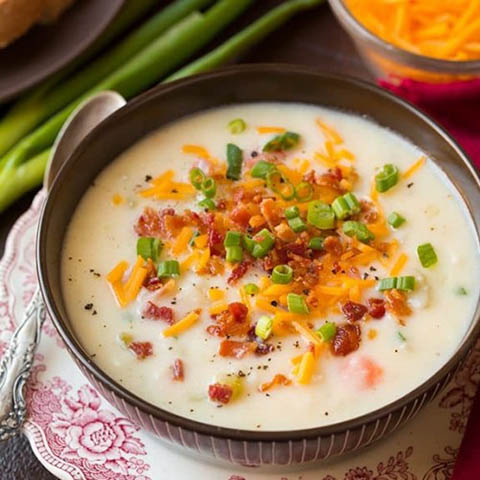 This recipe is a snap to put together and so comforting on those cool fall nights! We love to serve this hearty soup with a nice slice of crusty bread.
Ingredients:
4 cups of potatoes, peeled and chopped
3/4 cup of chopped onions
4 cups of chicken broth
1/2 Tbsp. of salt
1/2 Tbsp. of pepper
4 Tbsp. of butter
1/4 cup of flour
1 1/2 cups of heavy cream
1/4 cup of sour cream
Shredded cheese
Bacon
Chopped scallions
Instructions:
Add the potatoes, onions, chicken broth, salt, and pepper to the slow cooker.
Set it to low for 6 hours or high for 4 hours.
After the 6 hours/4 hours of cooking time, in a saucepan, combine the butter, flour, heavy cream, and sour cream. Cook and whisk until thickened.
Pour the thickened mixture into the slow cooker. Stir, cover, and set the slow cooker to low for another 30 minutes.
Serve with shredded cheese, bacon, and chopped scallions. Enjoy!