RECIPE: Todd English's Pasta with Braised Zucchini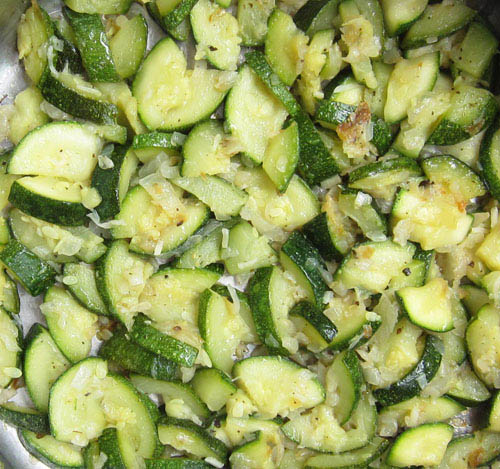 Ingredients:
1 Pound Pasta (I like Bucatini, which is a thick, spaghetti-like pasta tube, but any long pasta will work)
1/2 C. Olive Oil
1 Sprig Fresh Rosemary
4 Garlic Cloves, Chopped
1-2 Pounds Zucchini, Thinly Sliced
2 Cups Chicken Broth
1 Teaspoon Salt
1/4 Teaspoon Black Pepper
Shaved Parmesan Cheese (for garnish)
Chopped Fresh Basil (for garnish)
Instructions:
Cook pasta according to directions on package (reserve some pasta water)
In a large skillet over medium-high heat, add oil, then rosemary and garlic, and cook until garlic is lightly toasted (about 3 minutes)
Add the zucchini and stir well.
Add the Chicken Broth and cook until the zucchini is tender, about 20 minutes (note: you can cook it longer...it gets better as you stew it and it becomes a pulpy sauce).
Add your cooked pasta to the skilled, then add your salt and pepper and cook for an additional minute. If needed, add your reserved pasta water to the pan to thin out as needed.
Serve garnished with the shaved Parmesan and chopped basil.