RECIPE: Low Country Shrimp & Grits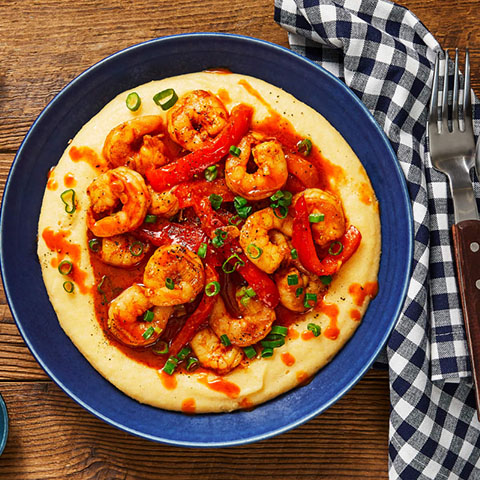 Ingredients:
FOR CHEESY GRITS
1 cup quick grits
4 cups water
1/4 teaspoon salt
3 tablespoons butter
2 tablespoons heavy whipping cream
2 tablespoons sugar
1 1/2 cups shredded sharp cheddar
FOR SHRIMP
1 pound large shrimp, peeled and deveined
2 teaspoons Cajun seasoning
1/8 teaspoon ground cayenne pepper
4 tablespoons butter
1 tablespoon vegetable oil
2/3 cup sliced red bell pepper
3 green onions chopped
3 cloves garlic minced
1/4 cup low sodium chicken or vegetable broth
Instructions:
Make the grits! Bring the water to a boil; add the grits, sugar, and salt. Cook for 5-7 minutes or until tender. Remove from heat, stir in the butter, cream, and cheddar cheese.
Make the shrimp! In a large skillet over medium heat 1 tablespoon of vegetable oil and 2 tablespoons of butter. Add the shrimp to the skillet. Sprinkle with Cajun seasoning and cayenne pepper. Flip the shrimp after one minute; cook for an additional minute. Remove shrimp to plate.
Make the sauce! Add remaining 2 tablespoons of butter to the skillet over medium heat. Add red pepper and cook until slightly tender; 2-3 minutes. Reduce heat to medium low. Add green onions and garlic and cook for 1 minute. Add chicken broth to skillet and stir. Return shrimp to the skillet and heat for 1 minute
Plate the dinner! Spoon the shrimp mixture over the cheesy grits. Serve immediately and enjoy!