RECIPE: Homemade Granola Bars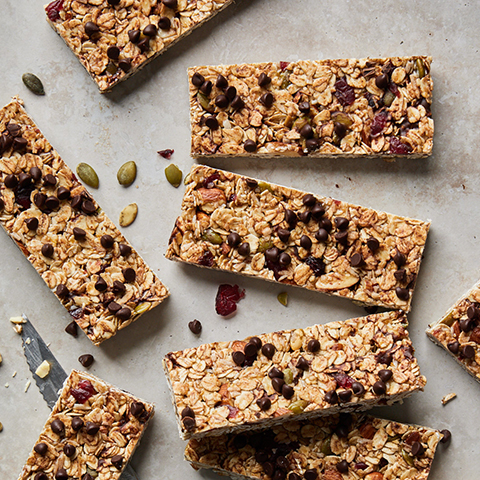 Here's a great, super customizable homemade no bake granola bar recipe. Experiment away -- we've made it with so many flavor combinations and they've all been great (hint: cinnamon-infused honey and nutella make for a fantastic Mexican chocolate inspired granola bar).
Ingredients:
4 Tbsp. coconut oil or butter
1/3 cup brown sugar
1/4 cup honey
1/2 Tbsp. peanut butter (or soy butter or nutella)
1/2 tsp. vanilla extract
1.5 cups quick oats
1.5 cups rice puffs cereal
1/4 cup dried cranberries
1/2 cup chocolate chips
pinch of salt
Instructions:
Add coconut oil/butter, brown sugar, honey, and peanut butter to sauce pan. Cook on medium high heat until thickened.
Turn off heat and stir in vanilla extract. Fold in quick oats, cranberries, and rice puffs.
Pour out into a parchment lined 8" x 8" pan, flatten slightly (clean hands work best for this), and set aside to cool for 5 minutes at room temperature. Sprinkle chocolate chips (and salt) over top and slightly press the chips into the bars.
Refrigerate for 30-45 minutes before slicing.