RECIPE: Marcus' Lighter Chicken Parm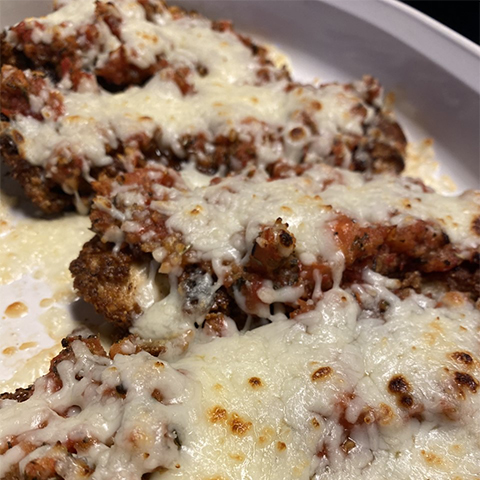 For the chicken:

Season chicken breasts or boneless thighs with salt and pepper.
Beat a couple of eggs in one bowl season with garlic powder.
Add shredded or grated parmesan cheese to a plate and season with Italian seasoning.
Dip seasoned chicken pieces in egg and shake off the excess.
Next press the chicken into the parmesan cheese mix until all sides are coated.
Cook the chicken in a pan with heated olive oil until crispy and an internal temperature of 165 degrees.
Set aside on a cooling rack.
For the topping:
In a saucepan, add finely chopped fresh tomatoes, fresh minced garlic, olive oil, Italian seasoning or oregano, salt and pepper (and red pepper flakes if you like a little kick)
Simmer on low heat for 15 minutes.
Assembly:
Place chicken pieces in a baking dish.
Top each piece of chicken with a couple spoonfuls of the tomato mixture, followed by mozzarella cheese (either slices or shredded).
Bake in the oven on 400 degrees until the cheese is melted.